The fact that I'm completely in love with Sara Ramirez probably renders me incapable of giving an objective analysis but I am not going to let that stop me from talking about her style. Anyone who watches
Grey's Anatomy
or is a fan of
Spamalot
knows exactly how awesome Sara is but acting/singing skills aside she's an incredibly impressive and intelligent woman. Reading her
profile in Glamour
sheds some light on her own struggles with body image and what it is like to deal with those issues in Hollywood. Remember her incredibly cute Grey's underwear dancing scene? Apparently it wasn't as effortless as it looked: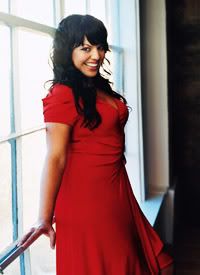 "I went to Shonda Rhimes, the executive producer, and said, "Do you really want me to do this? Why me? I have so much cottage cheese here and there!" She just looked at me and said, "Work it." That was all I got from her. And sure enough, doing the scene helped me get over a lot of my issues. I had to accept my body.

And now? I'm not going to lie: I still have days when I walk by the mirror on my way to the shower and think, oh God, I didn't just see that! But I've learned to stop myself and ask, am I being realistic? What do I love about my body? What am I grateful for? The answers to those questions remind me that I'm very blessed." - Sara Ramirez
I think Sara's story is very interesting and it sounds quite frankly like what alot of women go through every day. Most of us don't have to worry about what a casting director might say but there is a still an incredible amount of pressure placed on women to fit a very specific mold and in a sea of ever shrinking starlets its nice to see an actress who loves her body as is.
Now of course I'm here to talk about style so onward to the sexy. I've really been loving what Sara wears on the red carpet. She always seems to find the absolute perfect little dresses. They're flirty and cute but with just the right amount of sex appeal.




The Many Sides of Sara
There is something almost retro about her red carpet outfits. Look at those peep toe pumps she's wearing in the picture with
McSteamy
co-star Eric Dane, they could have been pulled from Marilyn Monroe's closet.
Inspiration
I've taken the liberty of using some of Sara's greatest fashion hits to create a look that can fit right into your closet. For those nights when you just want to unleash your inner glamour girl.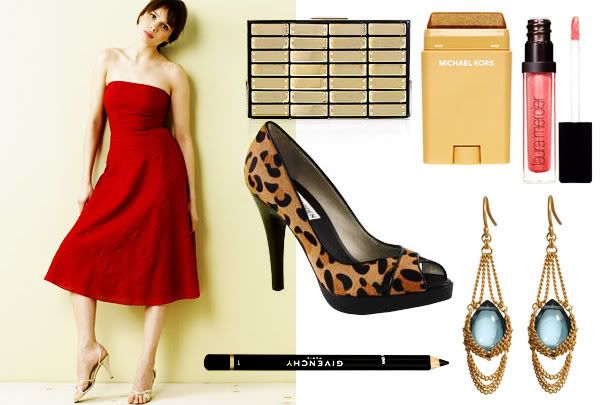 Dress: Banana Republic, Pumps: Steve Madden, Clutch: Jimmy Choo, Body Shimmer: Michael Kors, Lipgloss: Laura Mercier, Earrings: Antony Nak , Eyeliner: Givenchy
First we have the signature red dress but in a very casual almost beachy style. Perfect for summer barbeques or picnics. Then we've got the amazing leopard pumps, a complete steal at
79.99
and peep toe pumps can go with everything from jeans to jewels so you can really get alot of wear out of the shoes themselves. Plus there is a lower heeled wedge version if sky high heels aren't your thing. I think every girl needs at least one pair of animal print shoes and you can't go wrong with the classic leopard spots. Now my absolute favorite part of this entire look is the gilded Jimmy Choo clutch. I just feel like its an instant conversation piece though that may just be because it reminds me of Fort Knox, either way a good clutch will always be in style. Finish the look off with a stunning pair of dangling earings, discreetly placed shimmer and the perfect lipgloss and you've got yourself ready for an evening out on the town. Or a night curled up with
McSteamy
your special someone. The choice is yours.