Interesting phenomenon sweeping across the runways lately - as models lose their curves clothes gain them. From S/S right through to F/W Couture week we've been seeing an influx of nipped waists and padded hips - the sorts of exaggerated hourglass proportions that we almost never actually
see
on the runways.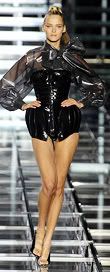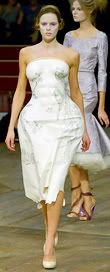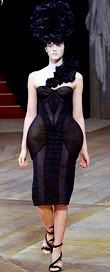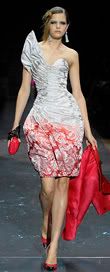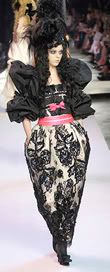 Hippy chic at Dolce, McQueen, Armani Prive and Lacroix
Now while we have yet to see any change in the aesthetic physically I find it interesting that designers are playing with proportion in this way. For so long the ideal has been a sort of straight up and down column or oversized draped sacks- very boyish and boxy overall. It almost seemed as though fashion had forgotten about the very idea of the curve but now its returned but in these surreal corset and bustle-esque dresses. Granted, I'm going to go out on a limb here and say that most of us do not require extra hip padding to fill out a McQueen frock but its interesting that he's added it.
It would seem as though the focus is going back towards the idea of a body that has shape - even if that shape is created via padding. Every magazine from
Vogue
to
Bazaar
is talking about the
return of sex
(because according to fashion lore Tom Ford confiscated sex and took it with him once he left Gucci) and a curvier silhouette would certainly be a sign of such a resurgence because as we all know curves are sexy.
How do you feel about this look? Is it just the fleeting fancy of a few influential designers or a sign of a shift overall?