Hi, everyone!
Yes, it's been a million years. No, we have no excuses. The dog did not, in fact, eat our homework. Mr Nobody didn't do it and run away. Your
TFFF
correspondents just got busy:
Miss J
and I both upgraded from semi-professional fashion hacks to the real deal, and goodness, but that was a shock to system.
But hey, we're back now. I'm not promising that we can bring you thrice-daily updates, or anything, but then we never did. But a regularly scheduled dose of fat-friendly fashion coverage and a stern critique of the industry a few times a week? That, we can do.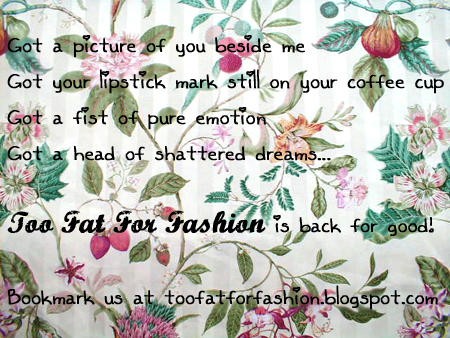 We'll be doing a bit of a re-design, too, and bringing back long-neglected features such as
Ask TFFF
* (we might actually answer the questions this time around, instead of nodding sagely and saying, "
What
a good question" then scampering off the Starbucks for a dark cherry mocha (
so
good) and forgetting all about it), perfect 10s, how tos, and the like.
What else can you expect from the return of the blog? In the next few weeks, look out for:
A look around Europe's biggest shopping centre, Westfield in London's White City. Is it a white elephant or sparkling monument to capitalism? (Or indeed both.) And, more importantly, how many shops in the 43-acre development cater to plus-sizes?

Christmas round-ups: the best gifts and goodies that are both size- and purse-friendly.
Clickity-click! We review, compare'n'contrast the many 'virtual wardrobe' sites that have sprung up around the web over the last year: the good, the bad, the plus-sizes available, the irritating software you have to download and cram your hard drive with just to play Cher-inClueless with your clothes.
How to wear winter's hot trends and wear to buy 'em, from ruffles to leather trousers.

Tightening your belt: how to update your look in these (yawn) credit crunchian times.
The joy of Retail Therapy massages at Neal's Yard, available throughout November and December for stressed UK shoppers.
First Lady Fabulosity: the Michelle Obama look! How to look as chic as Mrs O.
Reviews and lush pics of cool girls' champion Gok Wan, plus editorials on Miss Naked Beauty and more.
All the TFFF-related fashion, beauty and celeb news and gossip as and when it happens.
*Yes,
Ask TFFF
has quite a backlog of emails and questions! Mea culpa. Rest assured that these will be trawled through over the coming weeks and we'll try to answer as fast and as best as we can.
In short: yeah, baby - we're back.