In my case, it's not the
ears
, so much as the
fingers
. I rarely feel the cold anywhere except in my hands, which, come winter with its super fun combo of biting winds, low temperatures and icicles raining from the sky, makes my hands do an impression of a James Bond film:
COLD-FINGERRRRRRRRRR!
Thank heavens then, for hand fashions: no glove, no love, as I believe the old saying goes. (Or as Mitch Leery once memorably said, "no hat, no glove".)
Not only will gloves keep your fingers toasty warm, but they're in fashion every season, unlike legwarmers, which are ridiculously practical, deliciously warm, but only occasionally trendy. There's also a myriad of options for covering your fingers (not even including anything dirty):
The Original: a woollen glove.
The Hobo: a woollen fingerless glove.
The Kaiser: a leather fingerless glove.
The Cruella DeVille: a long satin glove worn with cocktail rings on top.
The Ralph Wiggum: woollen mittens.
The Hybrid: a woollen, fingerless glove with an optional mitten-top.
The Assassin: a regular leather glove.
The You-Will-Get-Bullied: your choice of glove or mitten cunningly accessorised with a long ribbon threaded through the arms of your coat, so as not to lose them.
...and so on. Here's a selection of
TFFF
's favourites, in all sorts of styles, all available online: let your fingers do the walking!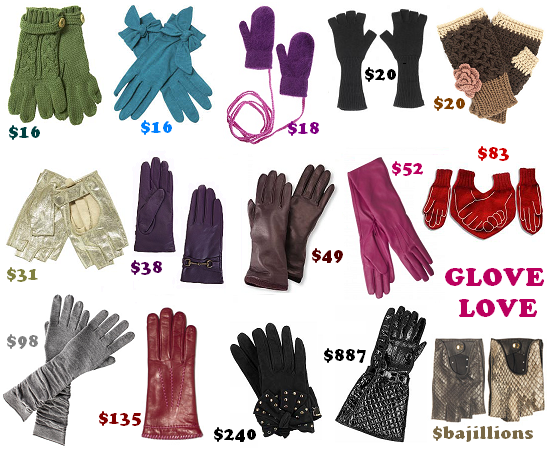 SMITTEN KITTEN (under $20):
Green knitted glove with button, by Topshop; Teal jersey glove with bow detail, by Miss Selfridge; Purple angora mitten with cord, by Urban Outfitters; Fingerless cashmere glove, by COS; Patchwork crochet fingerless glove, by Monsoon Accessorize.
ALL YOU NEED IS GLOVE ($30 to $85):
Gold metallic leather fingerless glove, by Topshop; Purple leather glove with buckle, by Urban Outfitters; Cashmere-lined brown leather glove, by LL Bean; Hot pink leather glove with poppers, by Oasis; Twisted Twee 'Lovers' glove set, at Not On The High Street.
WOULDN'T IT BE GLOVELY? ($100 or more):
Marc by Marc Jacobs woollen ruched 'Jolie' glove, at E Luxury; Raspberry leather 'Classic' glove, by Liberty; Moschino Cheap & Chic suede glove with charm, at Net-a-Porter; Burberry Prorsum leather gauntlet glove, at Net-a-Porter; Coffee python and lambskin driving mitten or iced coffee python and lambskin driving mitten, price on application, by Causse Gantier (Karl Lagerfeld's glove manufacturer of choice!).
Next time...hats! and scarves!