April is the cruelest month.
And not just because T. S. Eliot says so. April is the month wherein we pack up all our cable knits, stow away our jackets and wave goodbye to the trusty boots we traipsed around in all winter. As someone who is pollen allergic and floral print-phobic this is not my favorite time of year to say the least but since I'm determined to turn life's lemons into lemon sorbet I'm going to view spring as time to refresh and renew. Namely time to refresh the contents of my beauty stash in preperation for the months ahead.
For me Spring makeup is all about the natural look. Natural, not boring. I am not an advocate of taupe lipstick and dull colors but I think the best spring looks are paired down and soft; flushed cheeks, glossy lips and the slightest hints of shimmer. Less about whats trendy and more about bringing out the beauty within the wearer. As such here are a host of products guaranteed to keep you looking great even if your allergies kick in.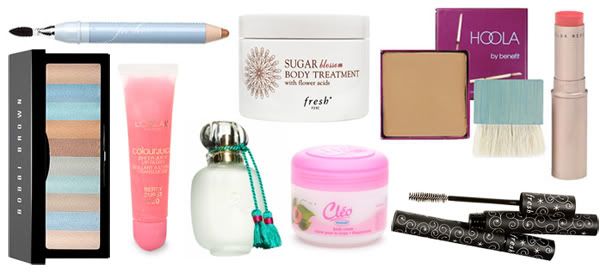 "I just fell asleep in a tanning bed" look. Benefit Hoola looks natural and wont conjur any images of George Hamilton.





"I just put on a pound of blusher" its "I just pinched my cheeks" a much better look overall in my opinion. Bonus, unlike other cream/gel blushes Delux flush sticks aren't sticky or tacky in texture.






I do believe a shopping trip is in order. If only to make me feel better about putting all my cardigans back into storage.